SplashMaker+ : Platform Integration
You are here:
SplashMaker+ : Platform Integration
Availability: Premium Packages Only
Our premium SplashMaker+ packages include both the core SplashMaker plugin and our SmartDoc/SmartApp themes. But they also include our Platform Integration suite for Splashmetrics and other leading MA/CRM platforms. These powerful, time-saving integrations guide and automate much of the setup for your SmartContent assets, as well as their connections to your Buyer Journeys and the MarTech stack you use to run them.
Select your integration package below for more information…

The +Splashmetrics Integration consists of the following components…
SplashLogic Sync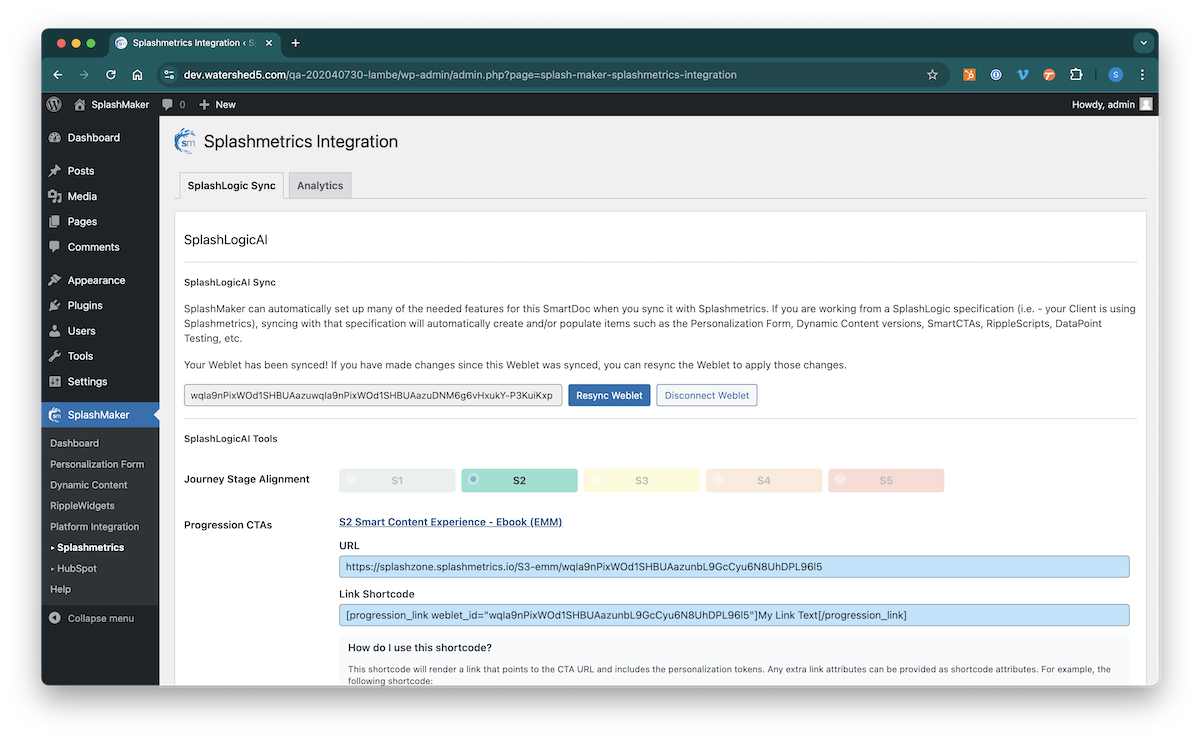 SplashMaker can automatically set up many of the needed features for your SmartContent asset when you sync it with Splashmetrics. If you are working from a SplashLogic specification (i.e. – your Client is using Splashmetrics), syncing with that specification will automatically create and/or populate items such as the Personalization Form, Dynamic Content versions, SmartCTAs, RippleScripts, DataPoint Testing, etc.
To sync with your SplashLogic spec, just enter the URL for the spec you received from your client and select the "Sync With Spec" button. A successful sync will be indicated. This connection will be maintained until you choose to disconnect from the spec.
IMPORTANT: We recommend disconnecting when this asset is launched
When connected, you will see the the following section (shown in the image above)…
SplashMaker Automation Tools: First, you'll see where this SmartContent asset sits in the Buyer Journey Flow stages which is helpful in understanding the level of qualification and knowledge the Buyer will have at this stage.
Next, select the items in SplashMaker you'd like to sync. SplashMaker will automatically create the various items (forms, scripts, pages, etc.) based on what is specified in your SplashLogic spec, saving you a tremendous amount of time and effort.
Finally, you'll notice the datapoint tester to the right. After you've assigned in your content the Analytics Datapoints from the next tab below, come back here to be sure your smart content is reporting the correct metrics to the Splashmetrics Analyze component. This way, you're confident that your client is receiving the measurement data they expect.
These tools work together to automatically ensure you're building this SmartContent asset to the exact specifications given you by your client.
Analytics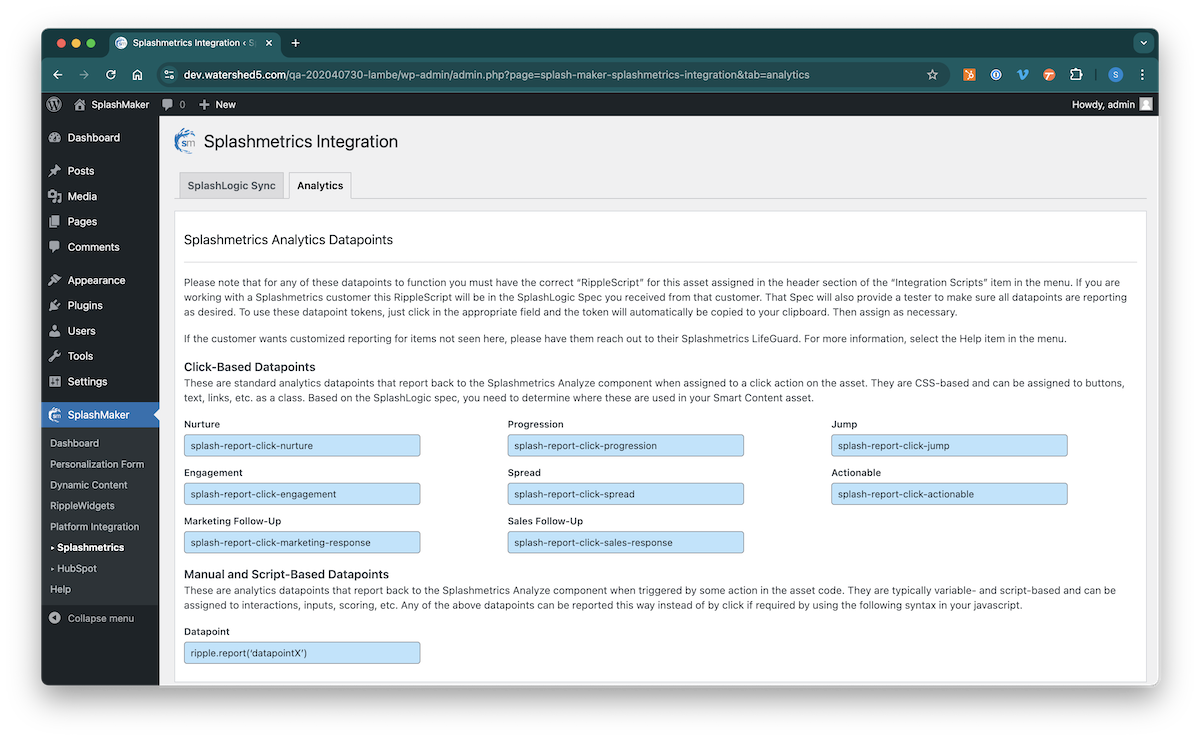 These are standard analytics datapoints that report back to the Splashmetrics Analyze component when assigned to a various actions within the asset. These can be click-based and/or script-based actions as need be.
Based on the SplashLogic spec, you need to determine where these are used in your SmartContent asset.
To use them just click in the blue field to copy the datapoint to your clipboard. Then apply it as follows:
Click-Based Datapoints: These datapoints are CSS-based and can be assigned to buttons, text, links, etc. as a class.
Script-Based Datapoints: These datapoints are typically variable- and script-based and can be assigned to interactions, inputs, scoring, etc. Any of the above datapoints can be reported this way instead of by click if required by using the shown syntax in your javascript.

The +HubSpot Integration consists of the following components…
HubSpot Account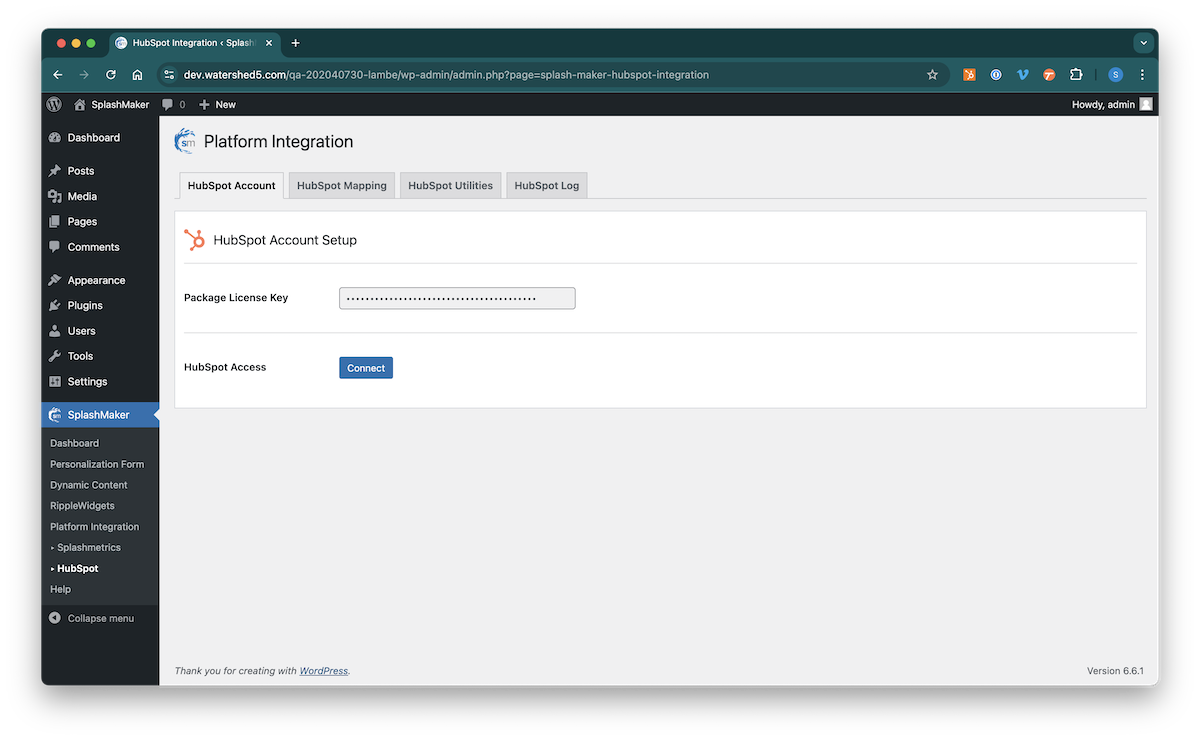 This section allows for connection to a specific HubSpot account via OAuth. First, enter your Domain ID. This is the domain name (minus suffix) of the email address used for your order, plus the order number. You can find all this info on your SplashMaker invoice. So if your email domain is xyz.com and the order number is 1001, your Domain ID is xyz1001.
Next, select "Generate Tokens". This will open a new tab and direct you to your HubSpot accounts. If you are not logged in to HubSpot, you will be required to do so. Simply select the account you want to connect to and approve the connection.
You will then be redirected to the SmartTokens page shown here…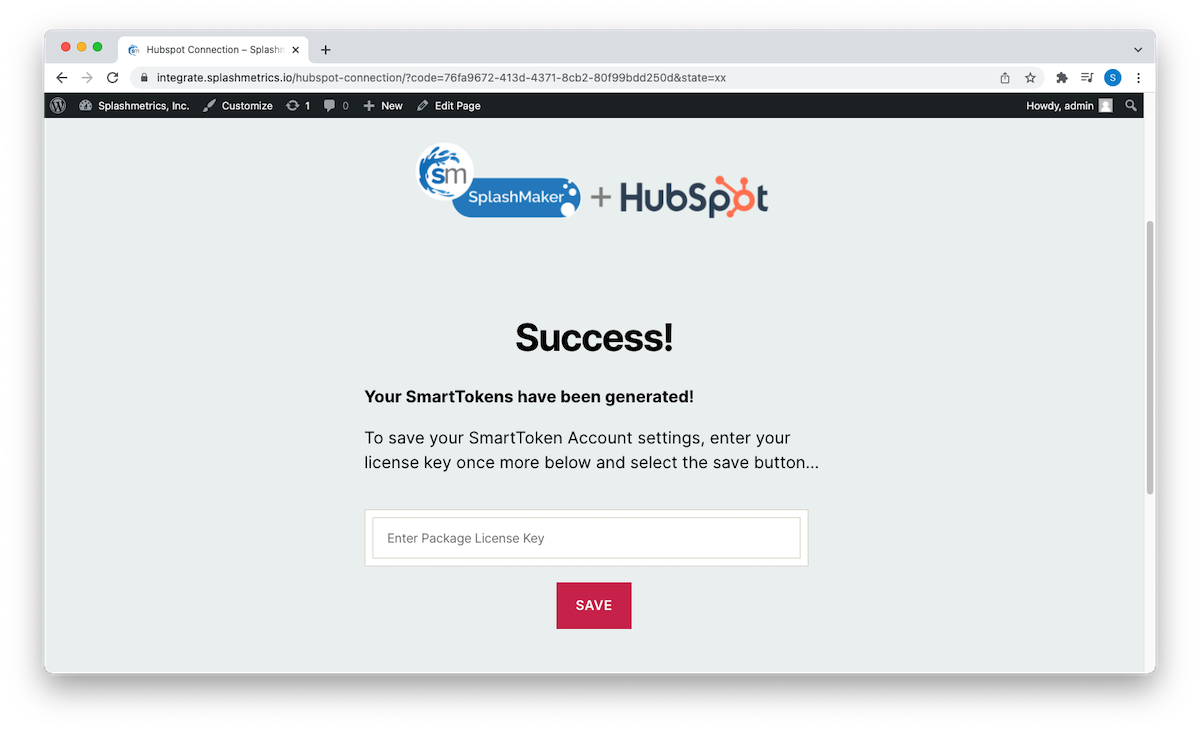 Simply use the buttons to copy and paste these tokens back into SplashMaker as shown here…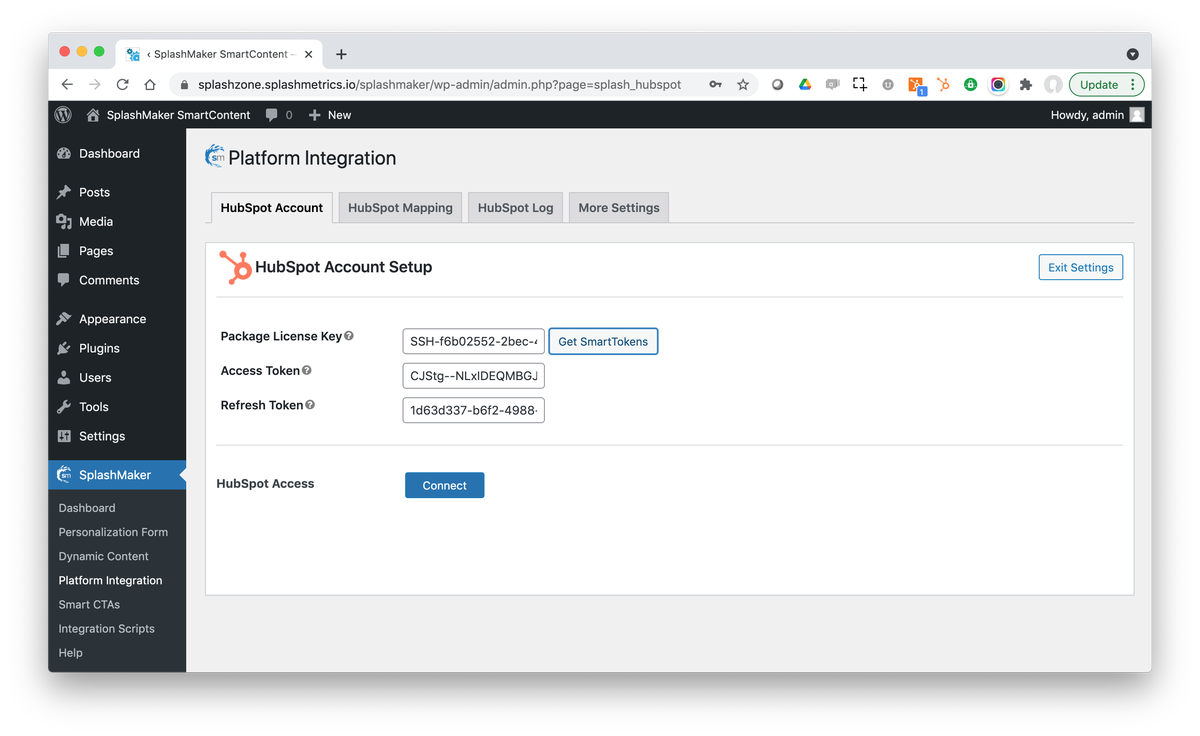 Then select the "Connect" button. When the connection is successful you'll see a modal indicating success, and you will then see the orange indicator with your HubSpot account number listed…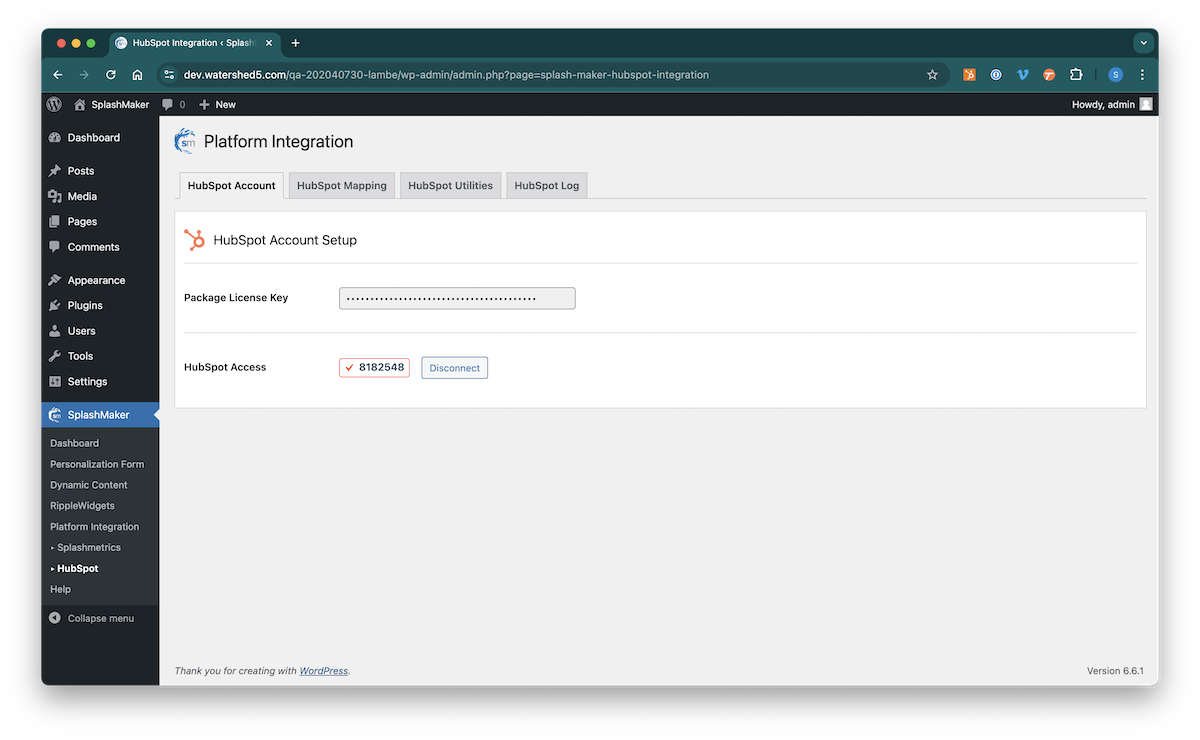 That's it! You're connected!
Also, remember that you can connect additional asset sites by simply entering your Domain ID and these same tokens. You do not need to go through the above process each time.
So store those tokens somewhere safe!
HubSpot Mapping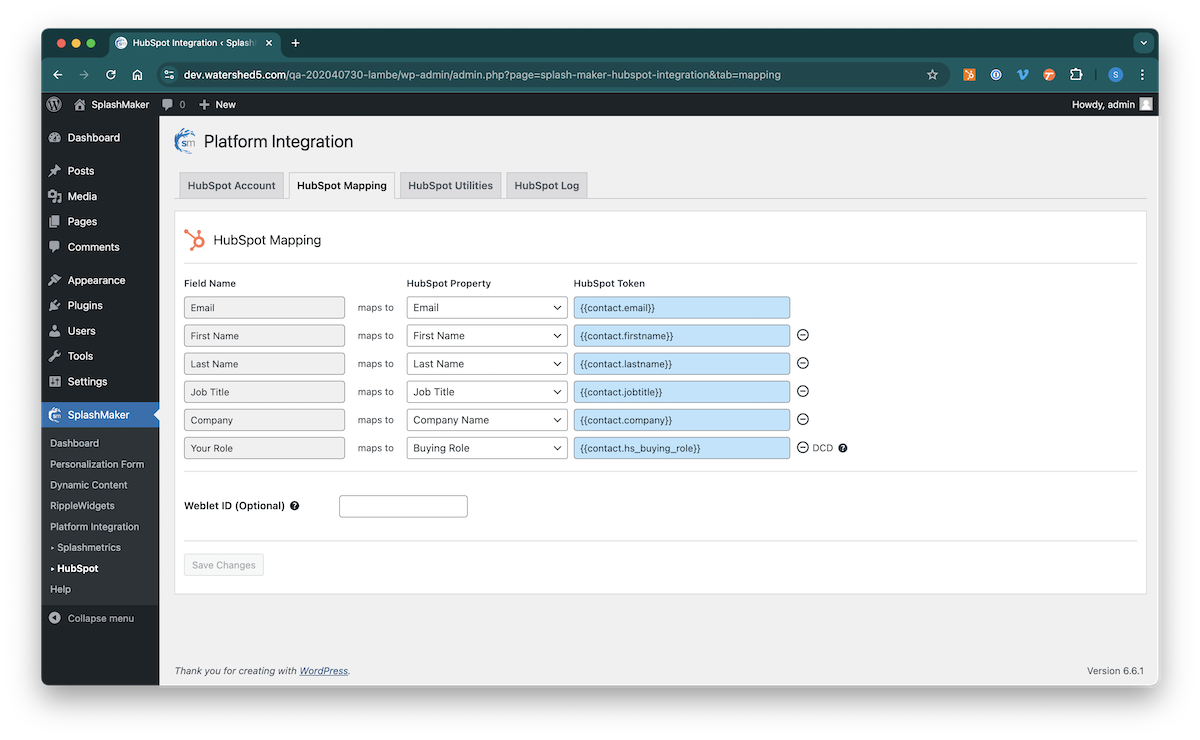 This section allows you to map various Personalization Form and Interactive Widget items directly to HubSpot Contact Properties (standard and/or custom) so that these items can be passed immediately and seamlessly into HubSpot.
Note: Before you work with this section, first make sure you have made all the changes you need to the Personalization Form component.
This section should already be populated with the items currently in the Personalization Form. If you have already connected your HubSpot account like above, SplashMaker automatically maps all Standard Form items/fields for you and generates the appropriate tokens that will be used in your SmartLink within HubSpot to personalize this asset for known contacts without the need for the form.
If you add items to the form, you'll see this item pop up at the bottom of the page…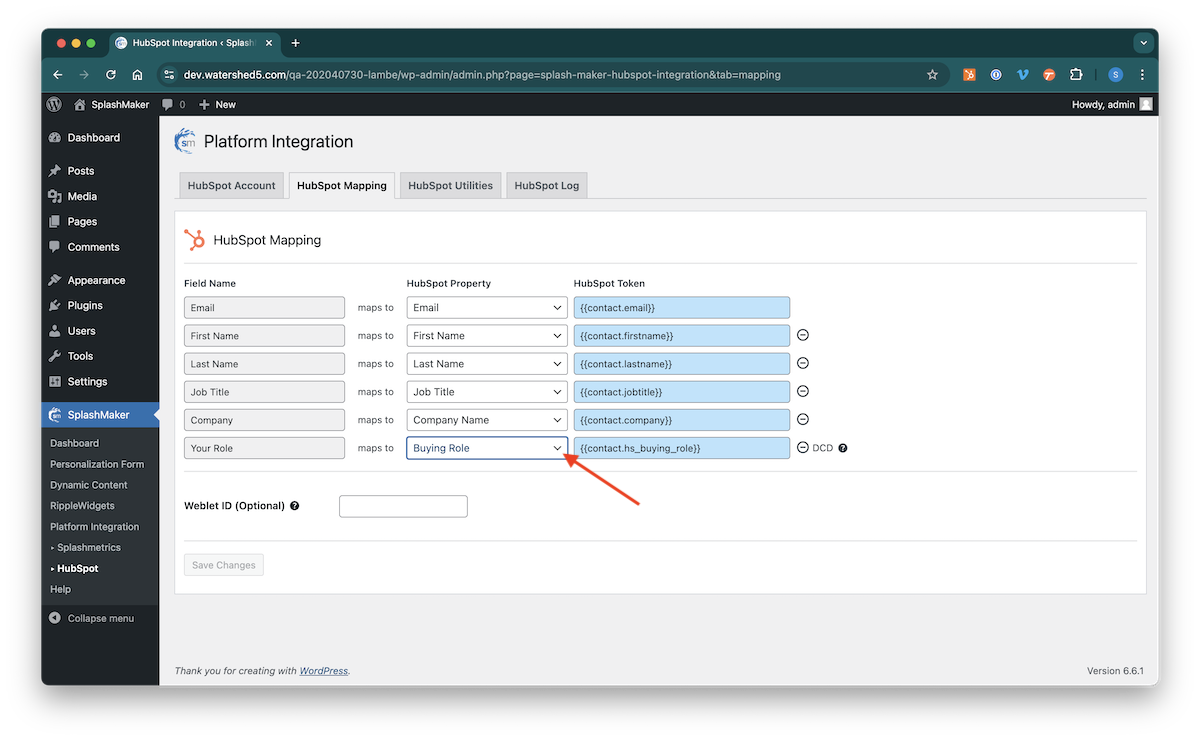 You can use that to add only specific items from the form, or you can use the "Sync With Form" button to automatically ensure full alignment between the everything in the form and this mapping component.
Finally, for all Dynamic Content, Custom Form items, and Widget items, SplashMaker allows you to manually map to any of the existing Contact objects in HubSpot.
This approach provides time-saving in areas where the items are standard and known – but also provides full flexibility for those items that you need more custom control over.
More Settings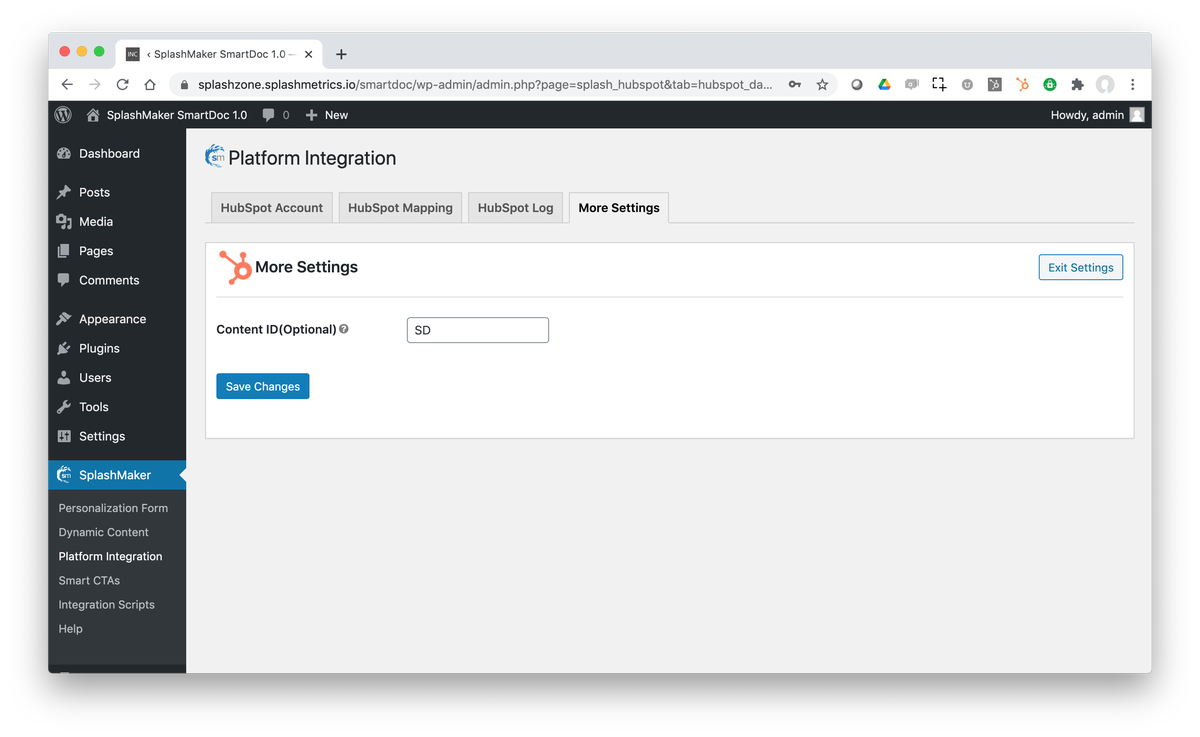 This section provide a couple of optional "drivers" that are subtle-yet-necessary for more control over the data coming into your HubSpot account.
First you see the "Asset Site ID". The ID is automatically appended to the SmartLinking and to the custom Buyer Data items you push into HubSpot from user interactions in the content. This way if your Client has many different content assets in each stage of the Journey Flow, they can know which smart content asset generated specific datapoints in HubSpot – thereby providing clear attribution.
The second setting is the "Dynamic Content Driver (DCD) Override". Let's say that for new Contacts entering this SmartDoc via the Personalization Form, you've mapped the DCD dropdown to a custom HubSpot property so that they can be vetted prior to moving them to another standard HubSpot property. But to bring existing Contacts directly to this SmartDoc from HubSpot without the form you need to use a different standard property within HubSpot itself. In this case, use this override to select the standard property token you would like to substitute in the HubSpot SmartLink for those existing Contacts.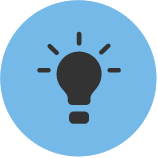 Stay tuned! We are continually developing new integrations with today's leading marketing and sales platforms!