SplashMaker : Personalization Form
Availability: All Packages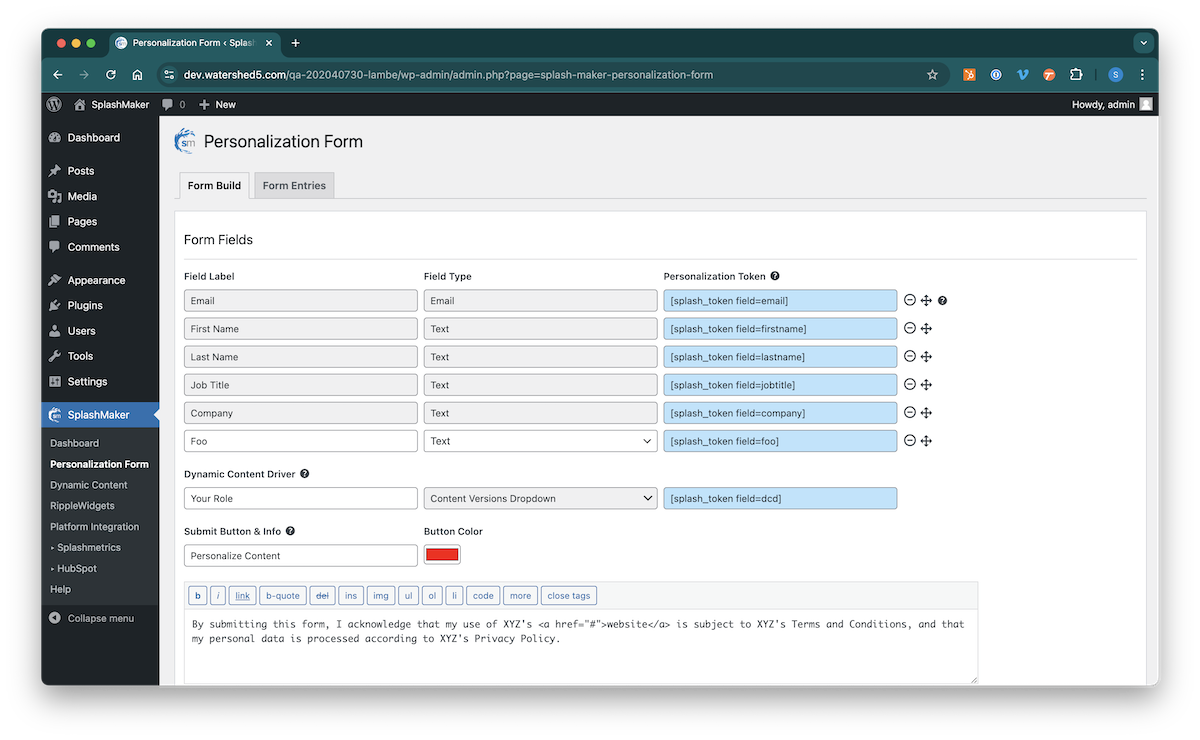 This component comes with both the free and premium packages of SplashMaker. It's functionality and options will differ slightly depending on the package.
The UI is pretty straightforward, but as with many pages in SplashMaker, you can use the info-pop-ups to get more information on each item as necessary. Also, you'll notice that you can drag-and-drop the order of the fields as desired. Just use the icon to the right of the row.
Generally, this component works like many other WordPress contact form plugins with a few critical distinctions:
Form Fields
Personalization Token: Use these tokens in your Dynamic Content headings, paragraph copy, etc. to personalize that text for the Buyer. For example if you enter "Hi [splash_token field=first_name]!" The Buyer's first name will be used in that spot. To copy a token for use in your content, simply click in its blue field and use your preferred method of copying that item to your clipboard.
Email: You'll notice that by default, we already have the Email form item here. The reason for this is that most Marketing Automation and CRM platforms require emails for their forms/contacts. However, as you'll see in the info-pop-up, if you are using the free version of SplashMaker, you can delete this field if you'd like to create a fully custom form. Otherwise, if you have a third-party integration, it is locked so that data syncing is possible.
Dynamic Content Driver: This is another default item in the form. It determines which Dynamic Content page is served to the user based on their selection. The dropdown values are automatically generated based on the titles of the Dynamic Content pages you create. So just create the pages/versions you want to offer, enter a label for this dropdown to match the context of those pages/versions, and SplashMaker takes care of the rest.
Form Pop-Up Shortcode: Place this shortcode into the main landing page for this Smart Content asset*. The pop-up will automatically present this form to allow the user to drive the Dynamic Content Experiences you've defined for this asset. To copy the shortcode, simply click in its blue field and use your preferred method of copying that item to your clipboard.
(*Note: If you have one of our premium SmartDoc themes, we've already taken care of this for you.)
Add Fields
There are 2 types of fields that can be added to the form, Standard and Custom. Simply make a Standard field selection, or enter the name of the Custom field you want to create and select "Add Field" as appropriate. The new field(s) will show up in the "Added Fields" section and the "Save Form" button will turn red indicating the change. Select that button to save the configuration and move these new fields to the form section above.
Here are the unique distinctions between the field types…
Add Standard Field: This will add the basic standard fields that are typically in forms. These are already fully mapped and correctly tokenized for you. Also, if you are using one of our premium packages with a Marketing Automation integration, these will be auto-mapped to that platform by SplashMaker – saving you a great deal of time and trouble.
Add Custom Field: This will add various custom field types such as Hidden, Text, TextArea, and Select. You can name the field as you see fit, and SplashMaker will use that to create the Personalization Token.
For more details on how the Personalization Form item works with MA/CRM integrations, select your integration: Splashmetrics, HubSpot.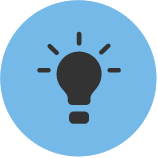 All blue fields in the SplashMaker UI are auto-generated, auto-copy items. Just click in the field to copy its contents to your clipboard for use in other areas of your Smart Content, etc.