SmartDoc Theme : Usage
Our SmartDoc Themes are set up to be fully responsive, mobile ready, and boast modern capabilities such as animated elements, sliders, interactive widgets, video and social integrations, and much more!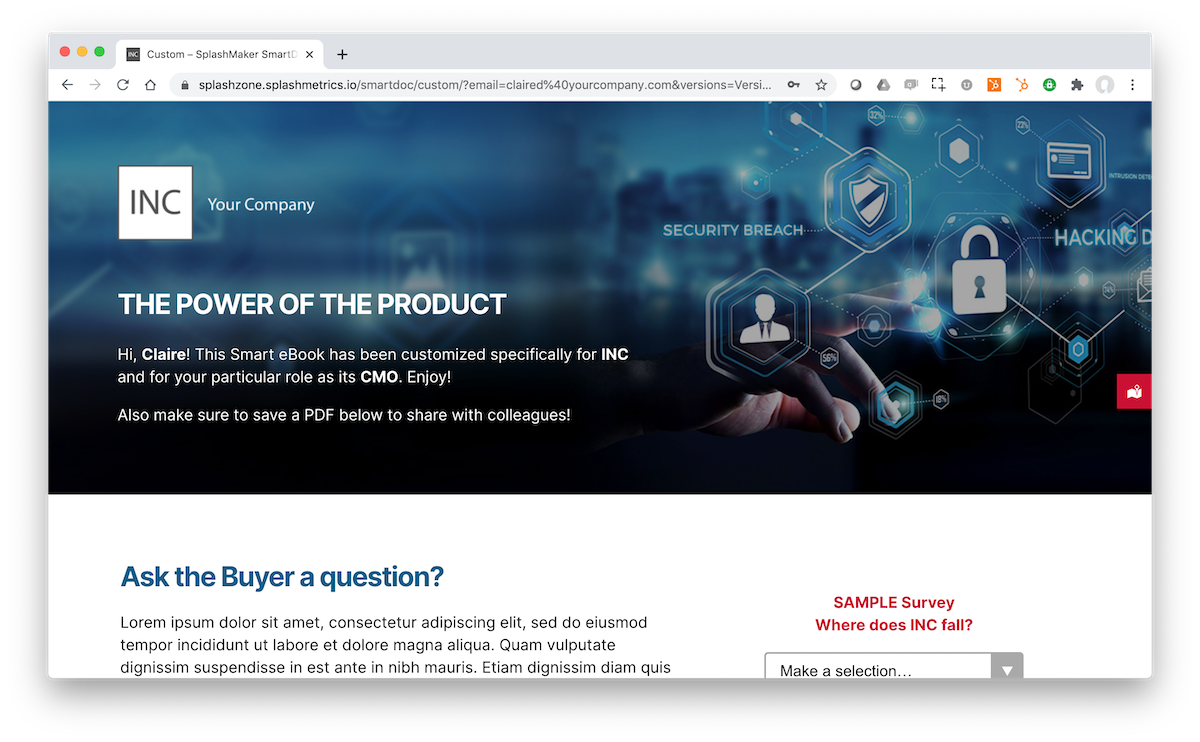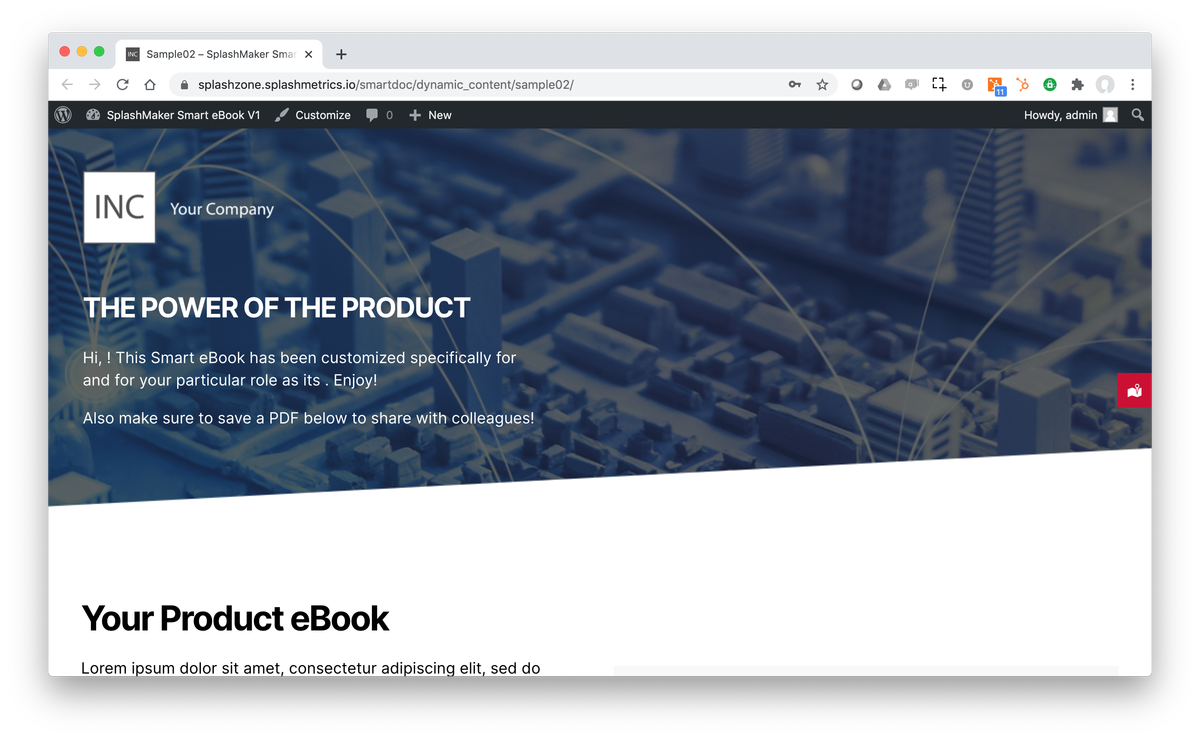 Getting Started
To get started, select a template style from the existing Dynamic Content page versions that ship with SplashMaker…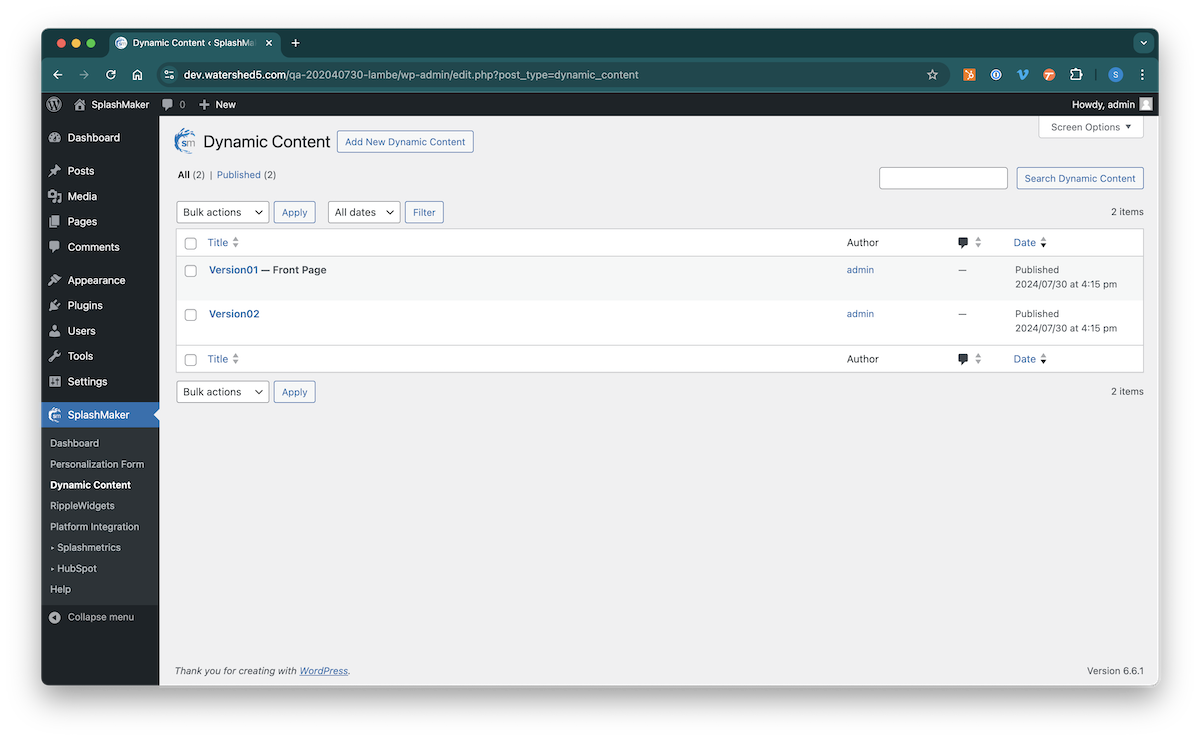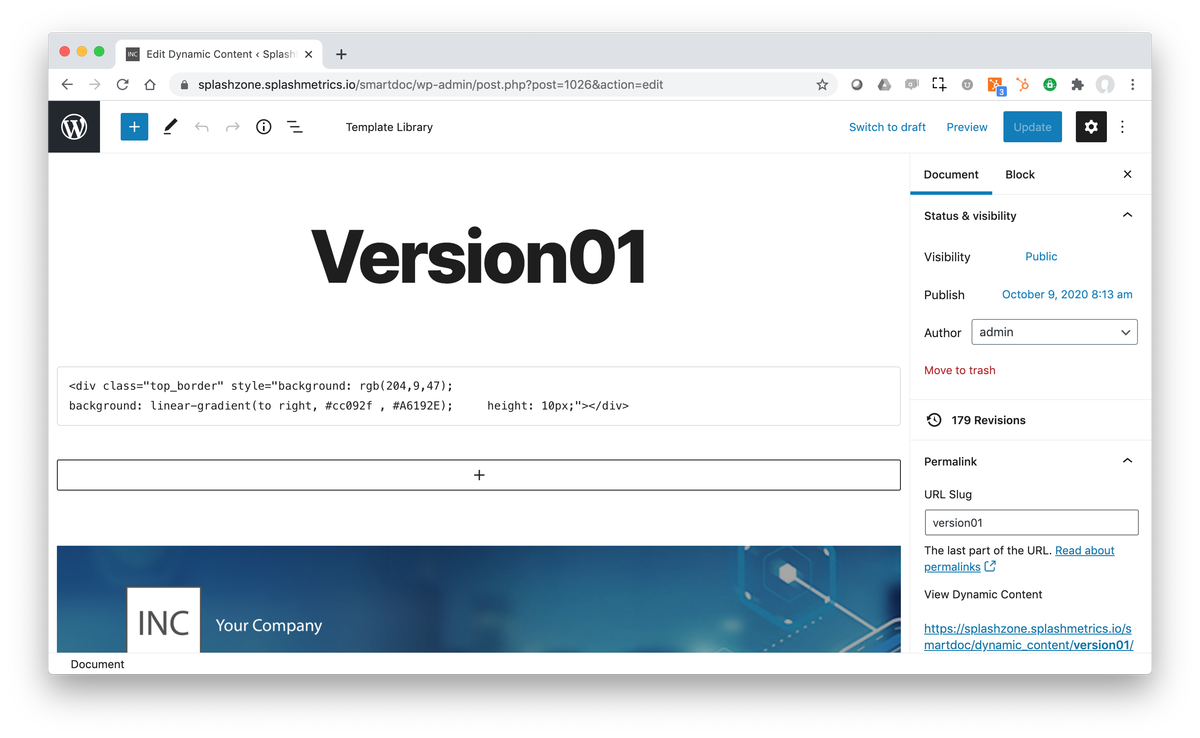 The name of the page will automatically show up in the user's Personalization Form dropdown from which the the desired content experience will be selected – so name it appropriately (see below for more detail).
Then you can move through the page and simply swap out images and edit copy to quickly and inexpensively create your first custom SmartDoc.
Finally, you can duplicate this Dynamic Content page for editing the other versions you want to automatically present to other Buyers. SplashMaker takes care of the rest by also adding these new versions to the same form dropdown mentioned above!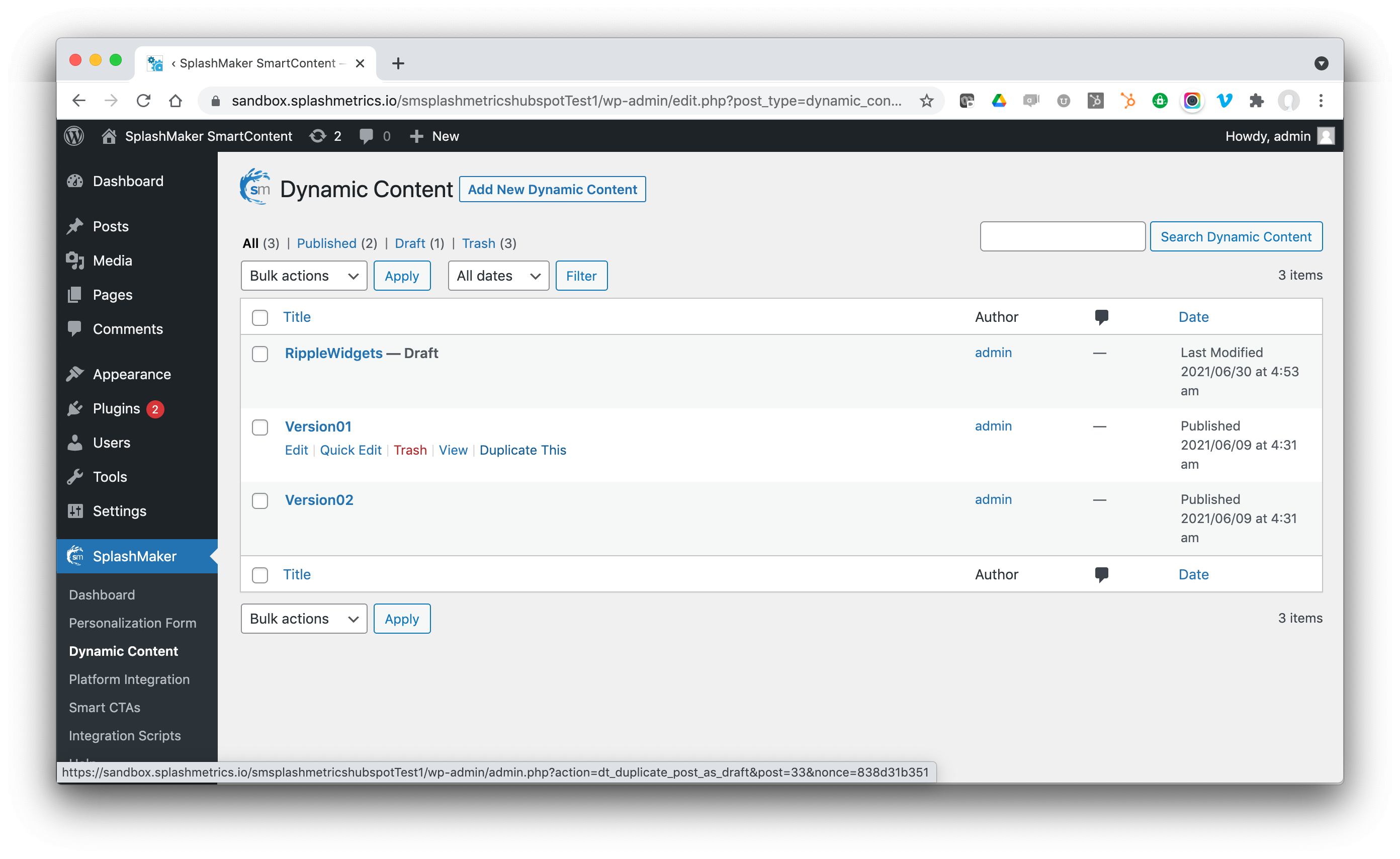 Another very unique and valuable feature of our SmartDoc Themes is that they are pre-formatted for "printing". In other words, what you see in the DynamicContent page can be immediately printed and/or saved to a standard, correctly paginated 8-1/2 x 11 PDF – with a single click.
Think about that – the user enjoys a fully personalized, mobile-friendly, interactive content experience – but also ends up with a convenient PDF that they can share with colleagues just like they are used to. But instead of a generic, one-size-fits-all document, this SmartDoc PDF is completely customized to them and their company. Moreover, the CTA link at the bottom of the document still has the personalization token embedded so they can continue their seamless Buyer Journey even from this PDF!
Now you can see why our dynamically generated SmartDocs are so much easier, more affordable, and far more powerful than a sea of expensive, traditional PDF documents in a static content library somewhere.
Let's take a closer look at how you work with these SmartDoc Themes to leverage the power described above.
How Do I Make Changes?
In WordPress, find the SplashMaker plugin and select the "Dynamic Content" menu item as shown…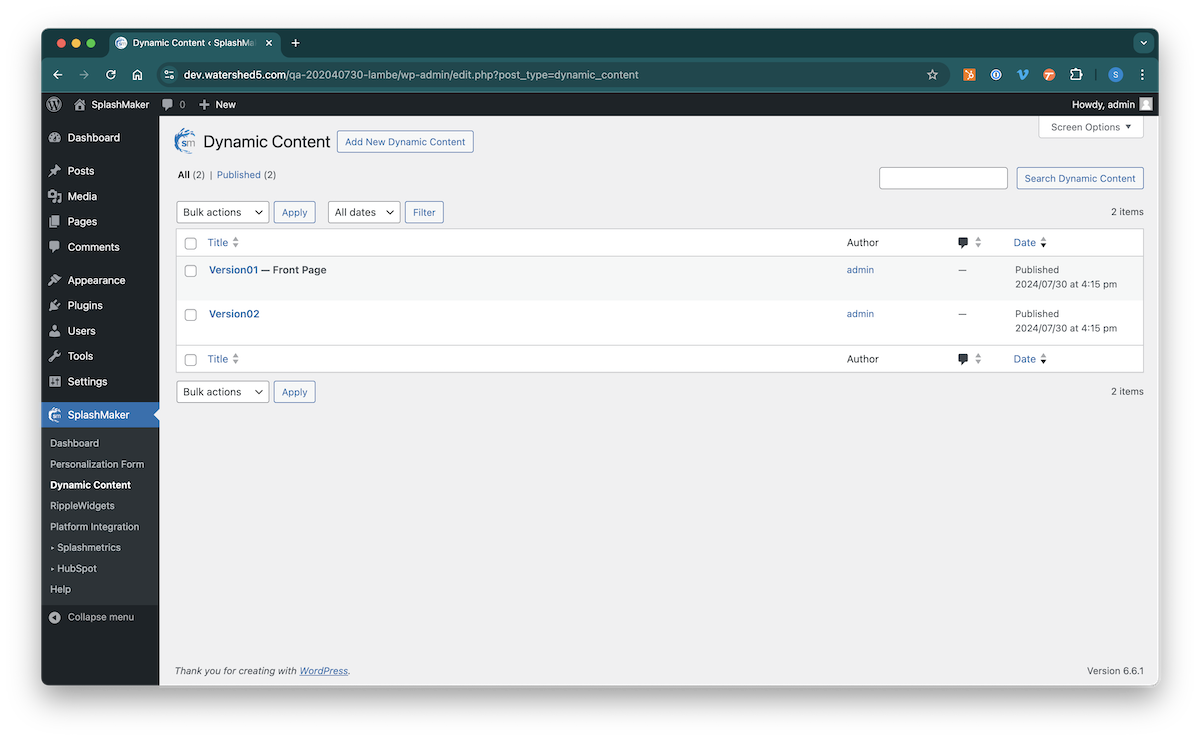 Select a Dynamic Content page and you'll see that our SmartDoc templates leverage the modern Gutenberg blocks editor…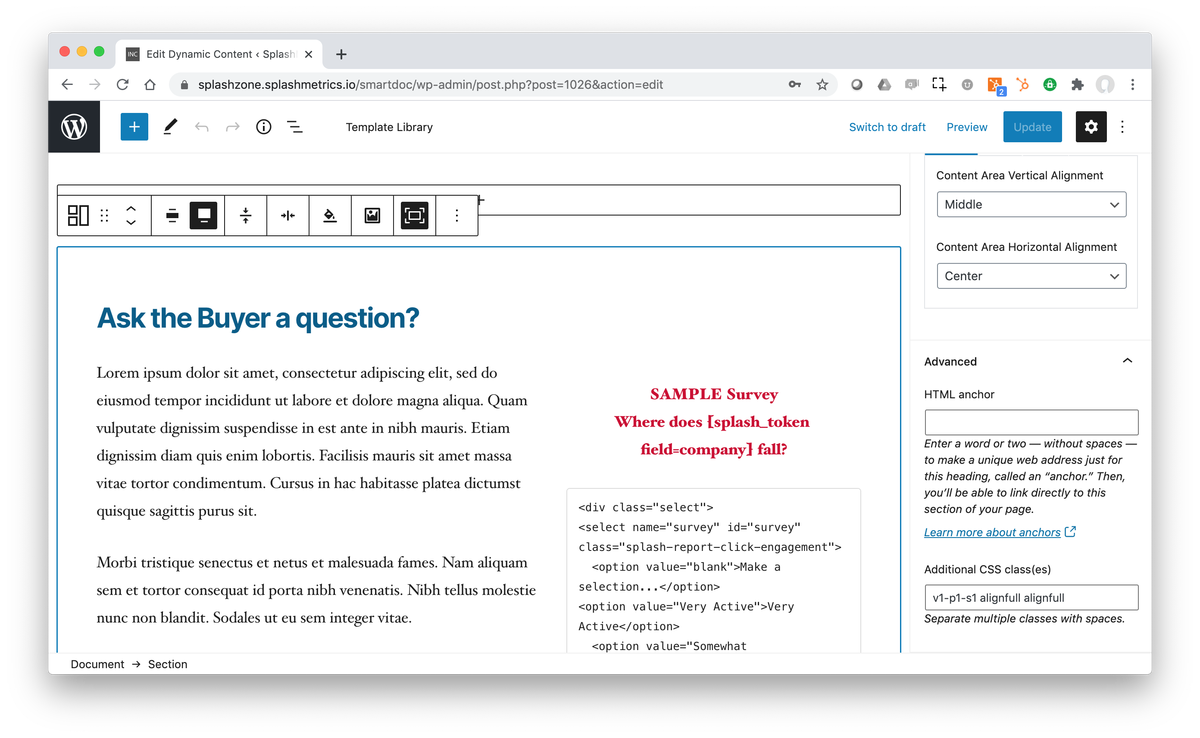 To keep our themes as light, powerful, and as flexible as possible, we use the Getwid blocks plugin. This greatly extends the core Gutenberg capability with a tremendous number of features such as animation, singular text color and size control, widgets, sliders, integrations, and more – all without the need for CSS!
All Dynamic Content pages in SplashMaker are set up in Pages, Sections, and Columns. The Sections hold groupings of related content on the page, which in turn is held within the Columns.
To change copy and images, simply select the item and make the changes.
Let's start at the top of the Version01 Dynamic Content page and look at the various pieces.
(NOTE: As you make changes, be sure to keep the vertical height close to the same so that the PDF printing/saving will work for you.)
The first thing you'll want to do is change out the logo. This works like any other image swap in WordPress as shown here…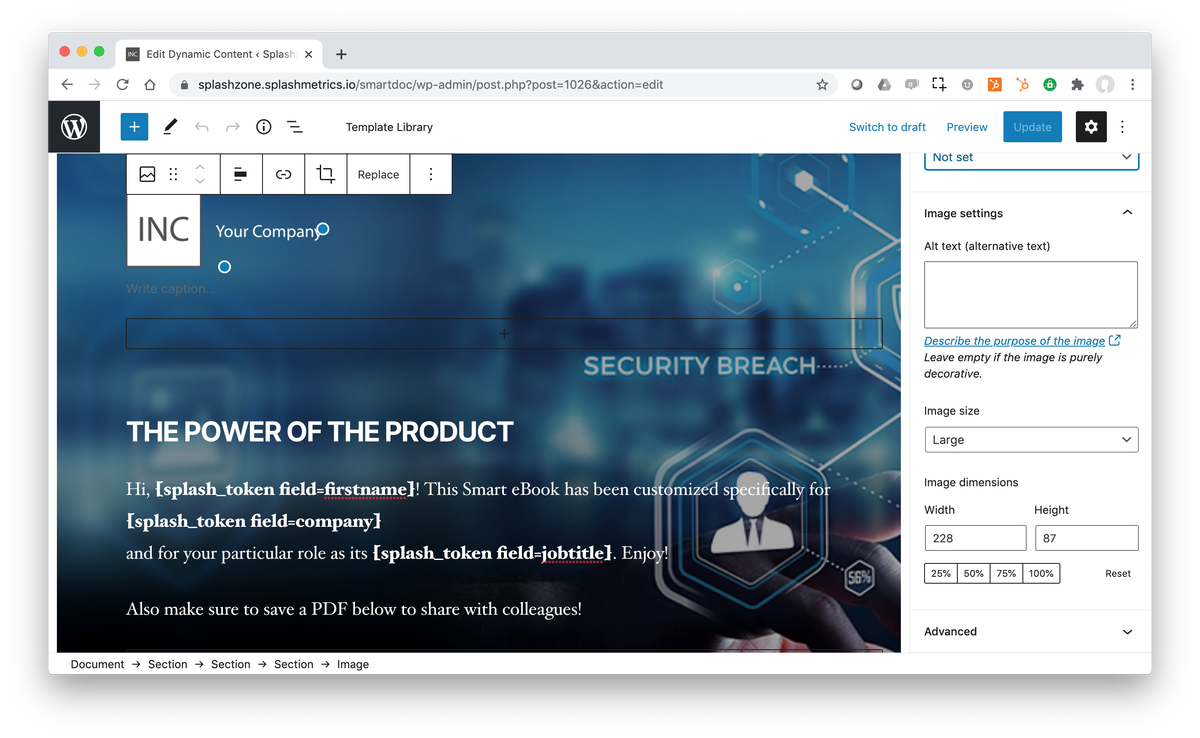 Size your new logo as appropriate making sure to keep the dimensions roughly the same as this stand-in.
Next is the banner title and copy. These work just like any other copy editing in WordPress with a couple of exceptions. First, you can see that the Getwid blocks allow you to adjust size, color, and formatting of any selected text item without the need for CSS. This gives you complete flexibility in your design – and saves a tremendous amount of time and effort over coding such changes.
The other exception is the "splash_tokens". These tokens are how you personalize the copy with the user's actual information.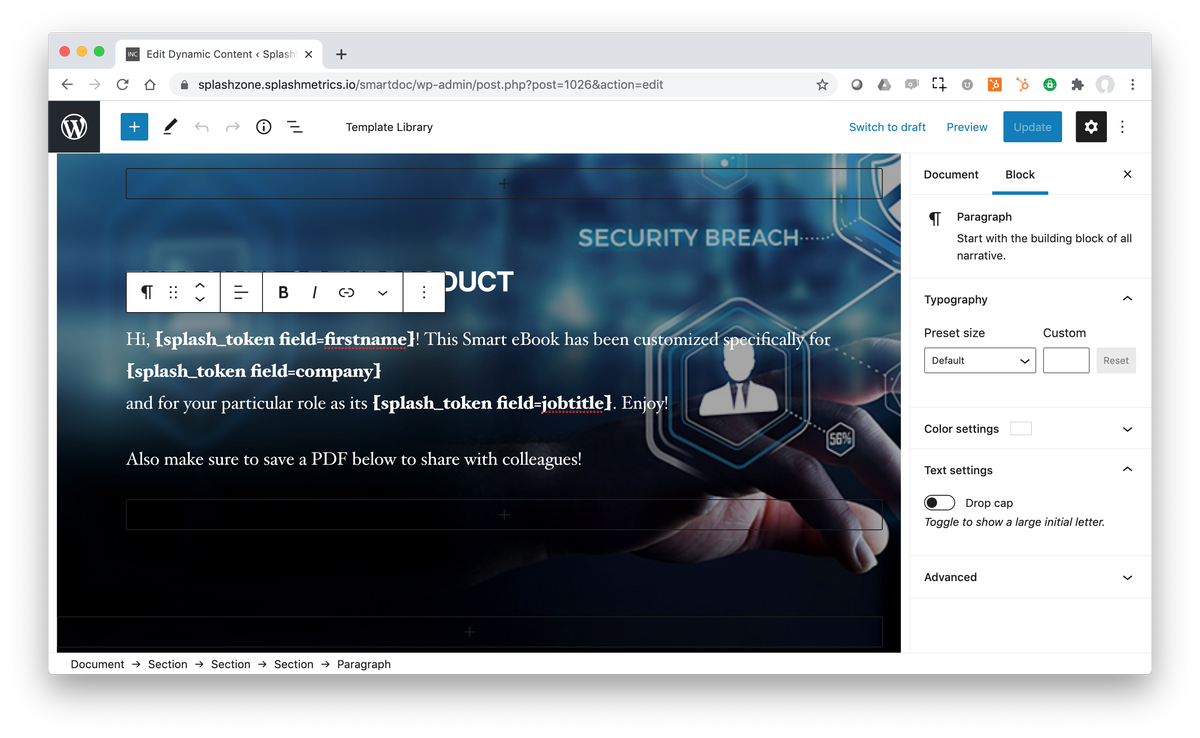 As you can see above, this copy will be personalized to the user with their first name, their company name, and their job title. This information and these tokens are auto-generated in SplashMaker's Personalization Form shown here (the blue fields)…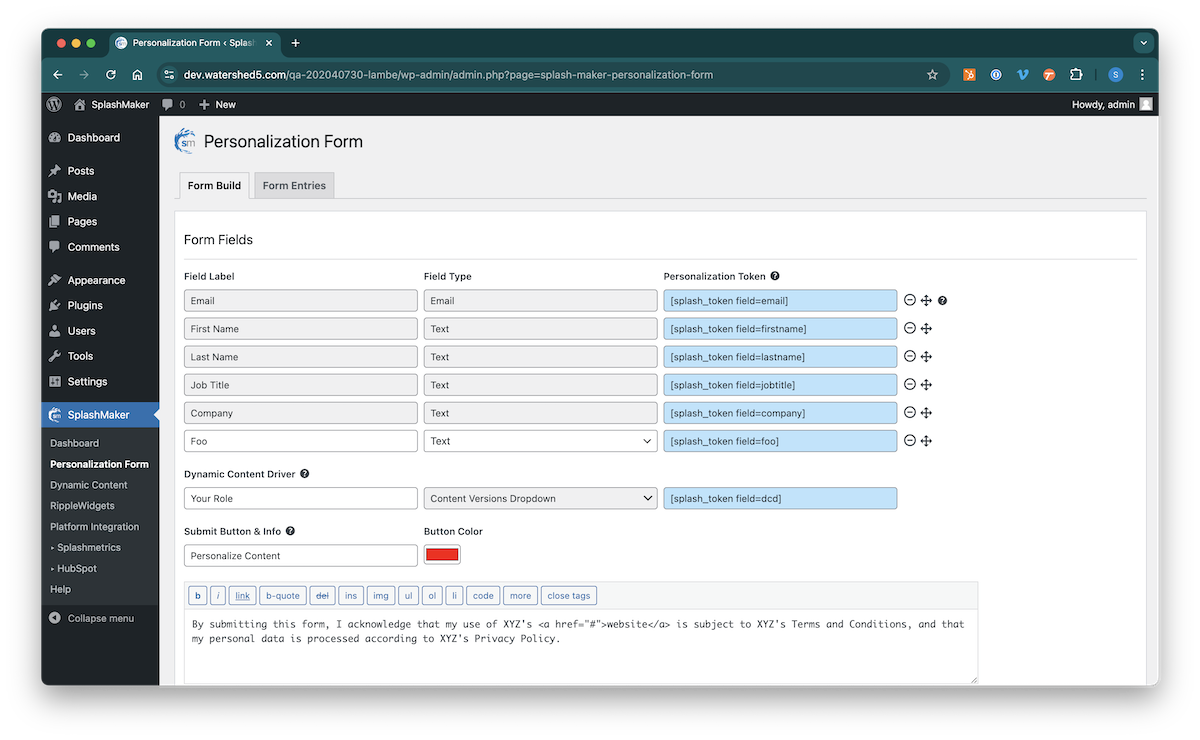 As you create the Personalization Form that users will see when they enter the SmartDoc experience, SplashMaker automatically generates the Personalization Tokens as shown above. Just click in the blue field to copy the token and place it in the text block as you see fit to fully personalize the content to every user.
(NOTE: More info on the Personalization Form and how to use it can be found here.)
The next section contains 2 columns with copy and imagery (can be a simple image, a slider, or an interactive component like the SplashMaker chart widget shown here)…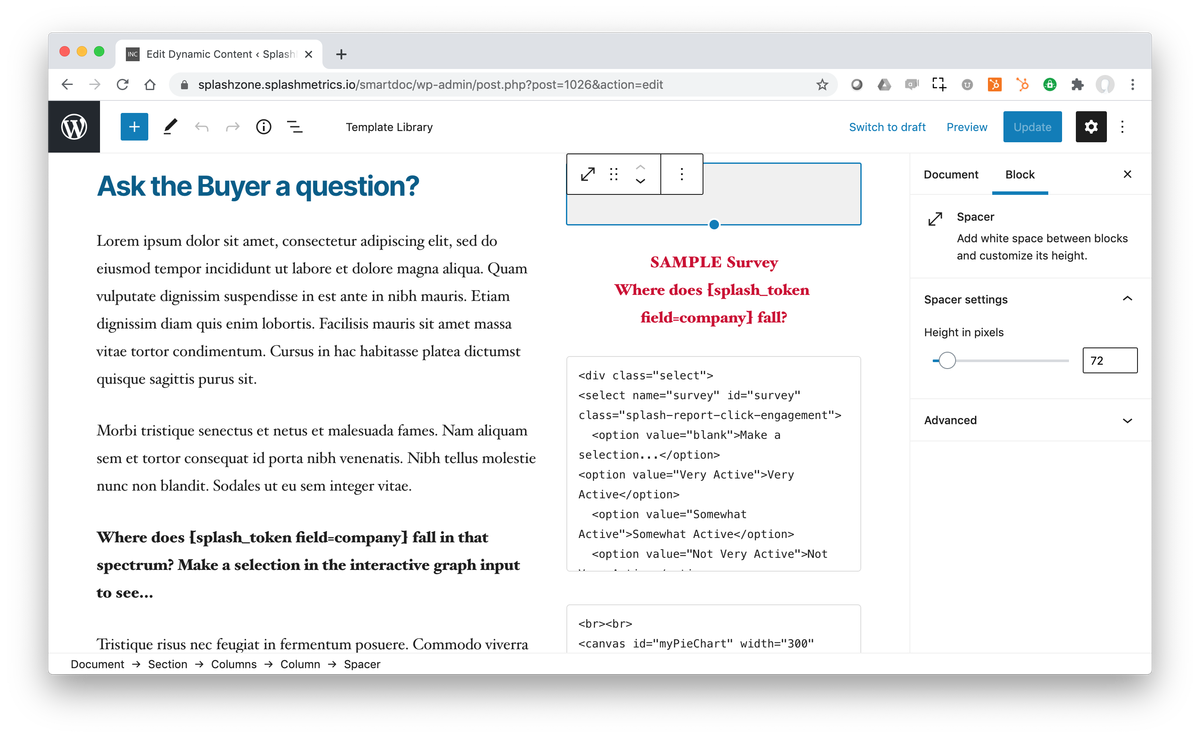 As mentioned above, you need to keep the vertical spacing of these sections as close to their current configuration as possible. So, for example, don't exceed the total line-count (27 lines) of the body copy in this section to maintain the layout.
To give you a bit more control over this layout as you work, we've also provided Spacers as shown above that let you easily adjust alignment between the columns.
The rest of the sections, columns, and content items work the same way…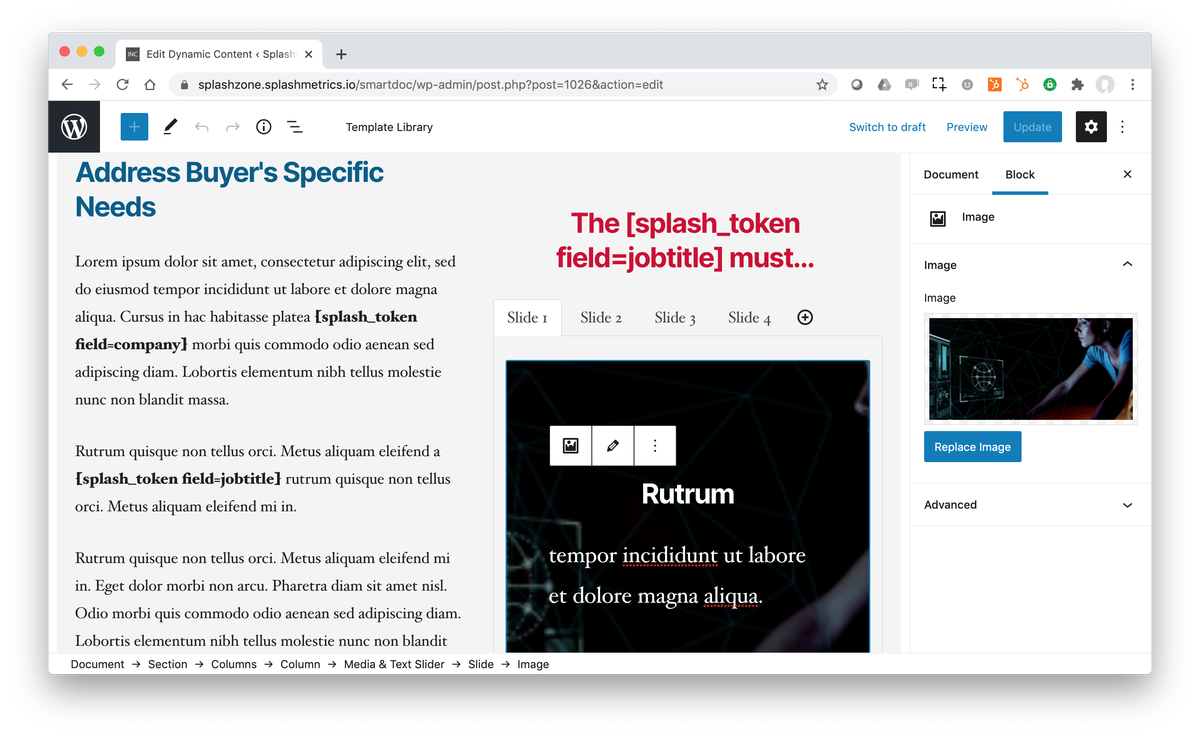 So creating your own fully personalized SmartDoc experience is quick and easy.
Finally, if you've kept these sections the same overall height, you should now be able to immediately print or save the SmartDoc to PDF by clicking on the link at the bottom of the page…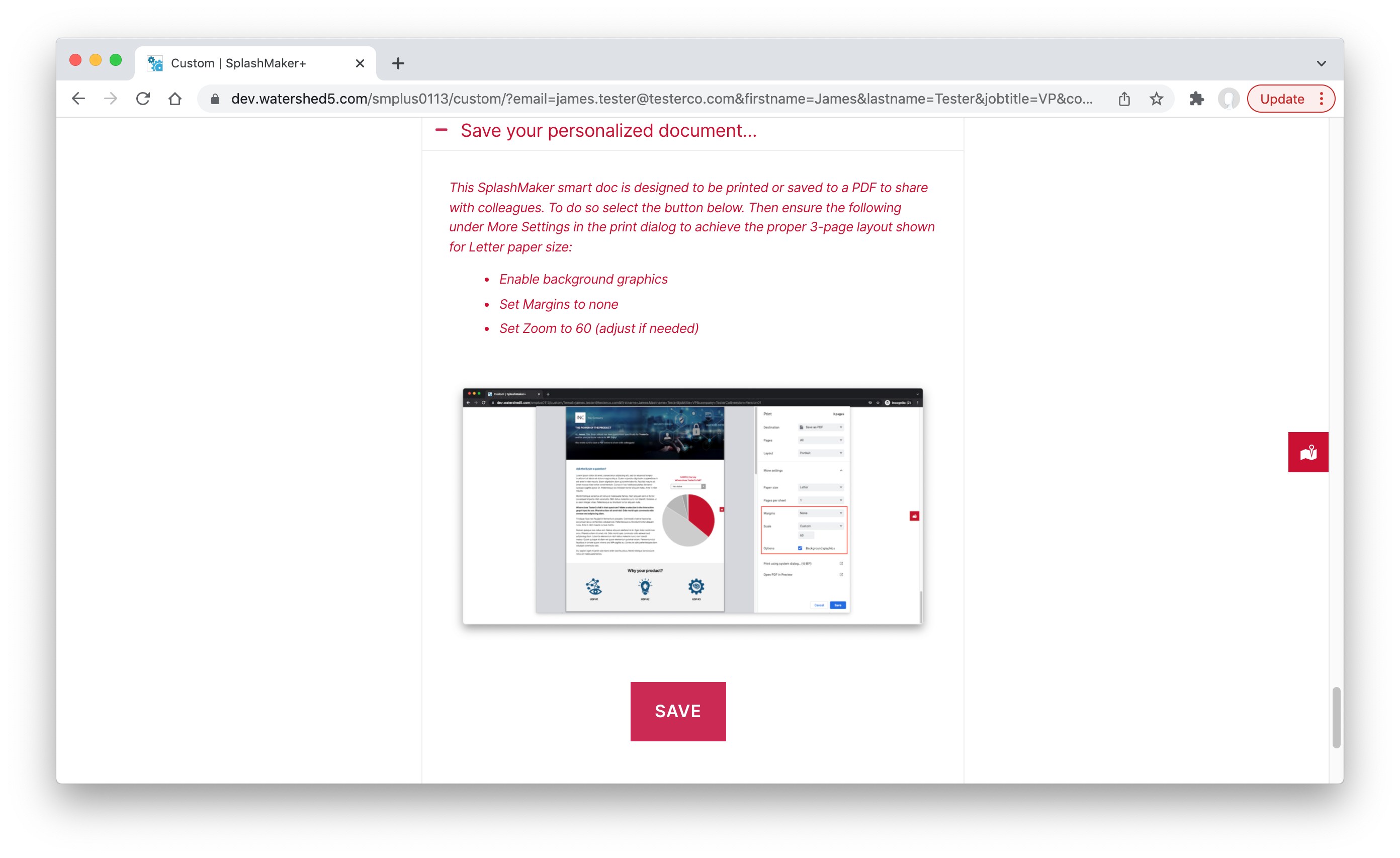 And you should see something like this…
Click here for an example PDF of one of our SmartDoc themes.
(NOTE: If your pages are not aligned correctly, see the help file here.)
How Do I Automatically Serve Different Experiences?
Once you have the selected Dynamic Content page template tailored to your needs, simply duplicate it as shown below and tweak those duplicates as you did above to customize each to your various Buyers.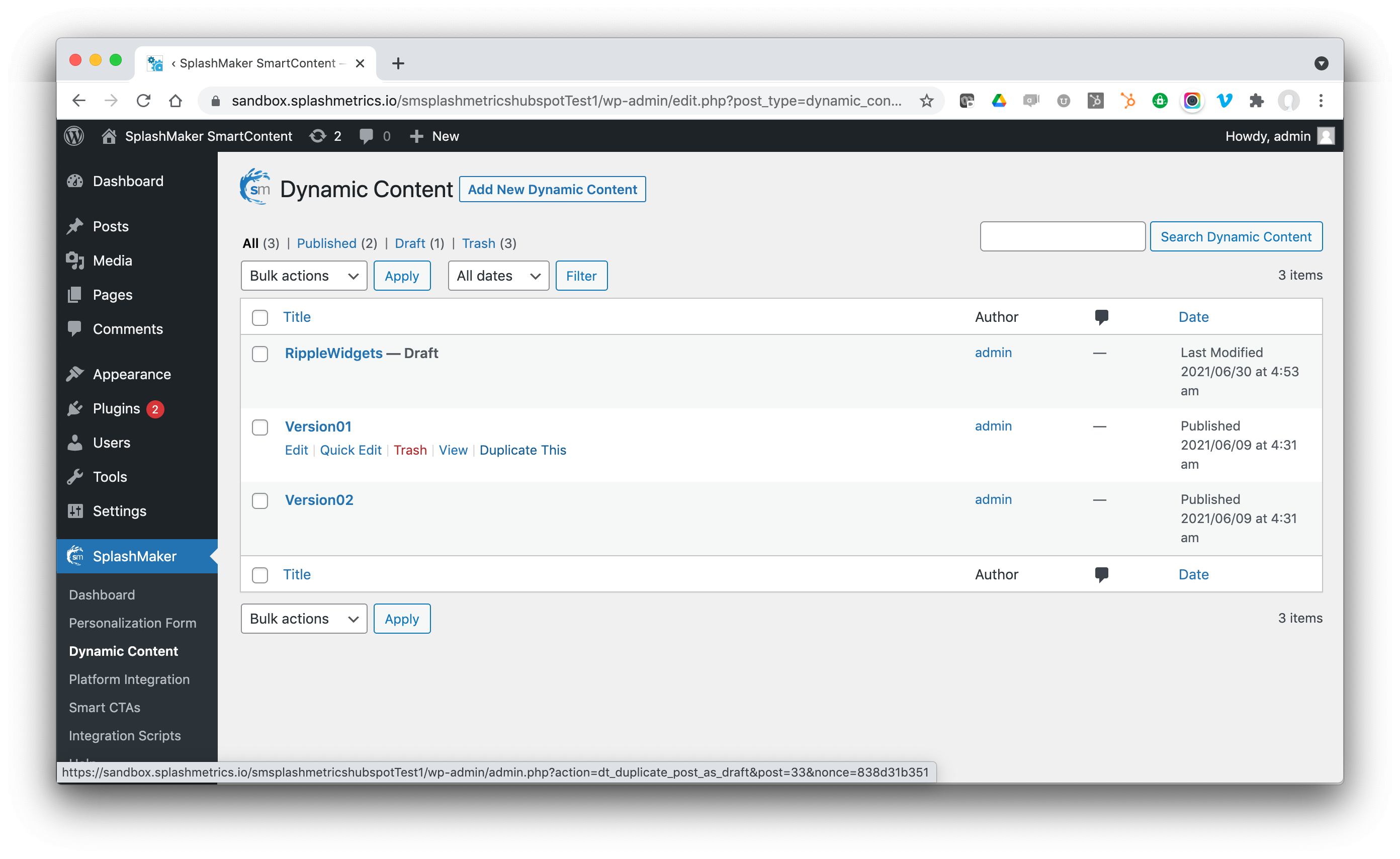 For example, if these content experiences are for an ABM initiative, you will likely serve up the versions based on Buying Roles such as "End User", "Influencer", "Decision Maker", etc. So you would simply name the Dynamic Content pages accordingly, then change out the copy and graphics of each experience to speak directly to each role.
As you do this, SplashMaker automatically adds these options to the Personalization Form dropdown under the "Dynamic Content Driver" section shown below…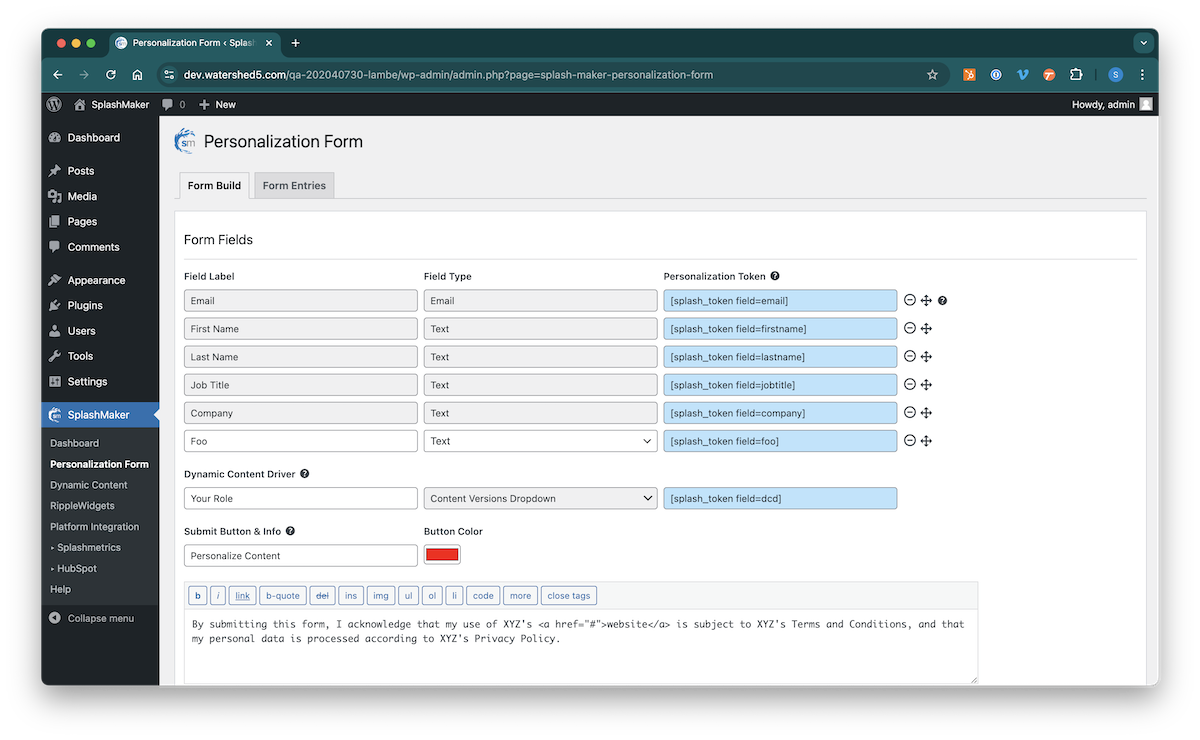 And as shown, you can also change the label of this dropdown (white field with "Version" in it) to fit the context of the experiences you're providing – such as "Your Role" for the above ABM example.
You can easily order these items in the dropdown using the Publish date for each Dynamic Content page. The newest date is first, oldest is last.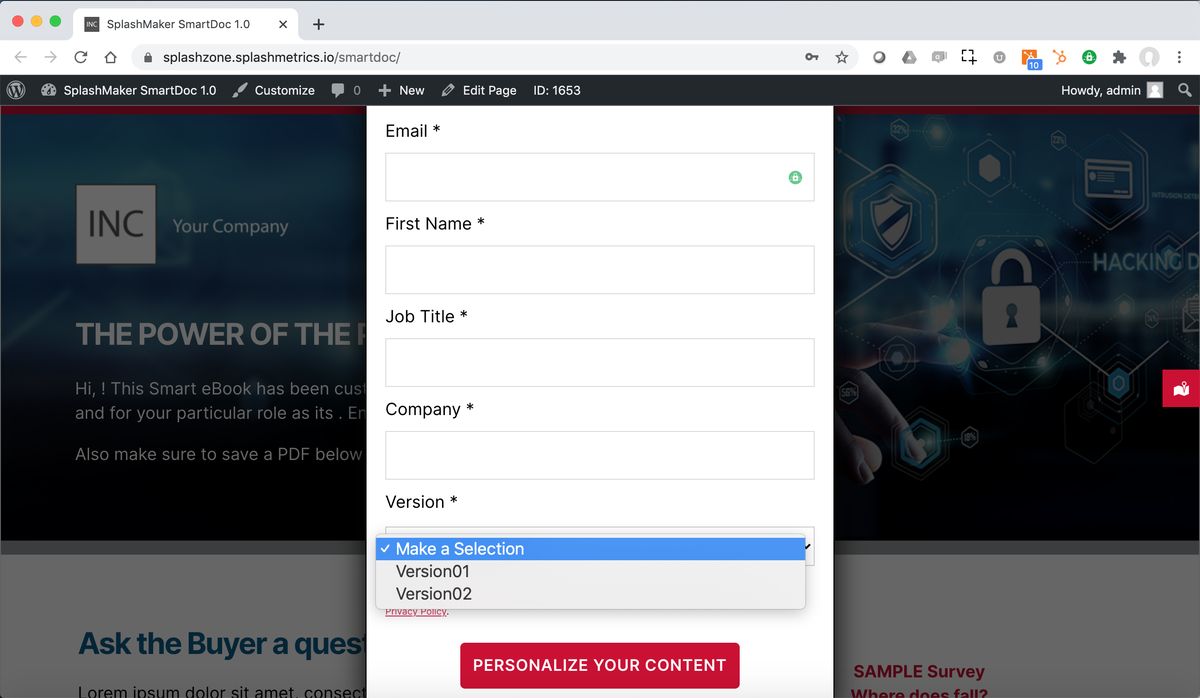 Just use Quick Edit for each Dynamic Content page and change the Date there to affect the order…
Finally, remember to trash any Dynamic Content pages that you don't want to show up in this dropdown.
(NOTE: For more information on SplashMaker itself, please click here.)
So, as you can see, SplashMaker and our SmartDoc themes are completely changing the game when it come to creating affordable, powerful SmartContent with WordPress!