SplashLogic : Overview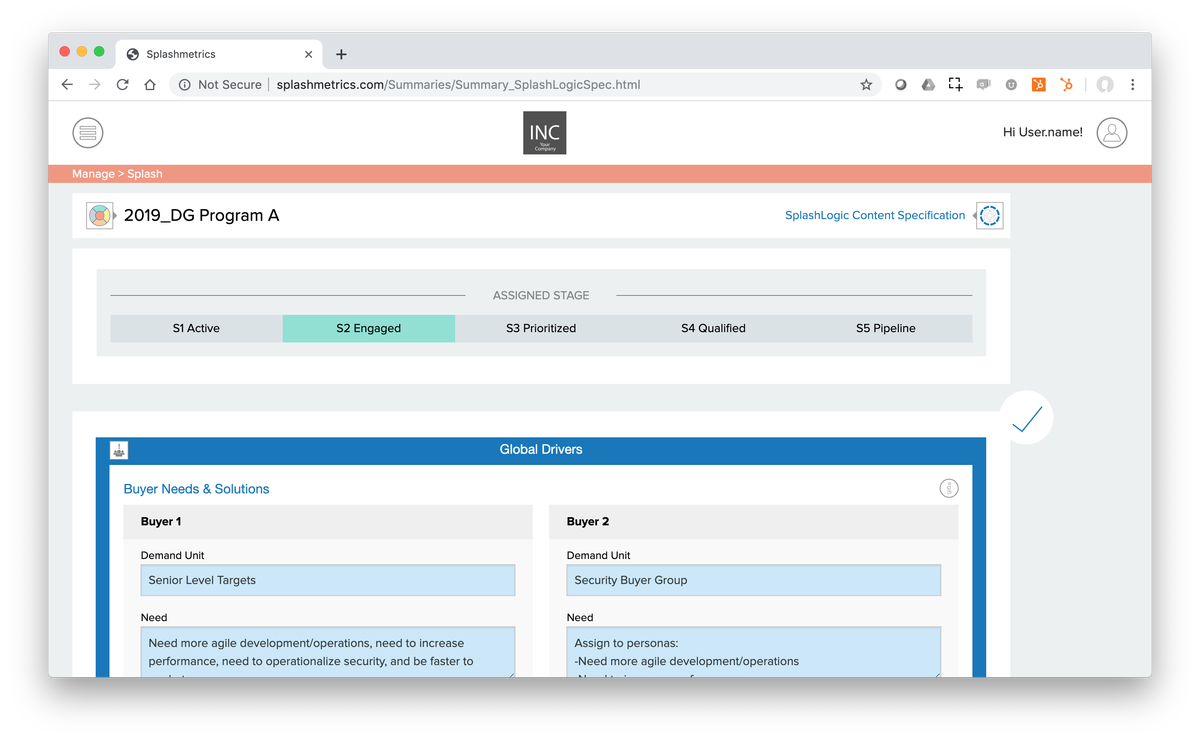 The SplashLogic specification is a live, dynamic Strategy and Creative Brief for the content you've been assigned. Laying out ALL the information in your client's strategic plan on a single page. This View provides your team with the following mission critical content direction to build successful smart content inline with your client's strategic plan for the time frame assigned.
Assignment Details
Here is the top level information for the specification. Including client contact information, content asset assigned,where they lie on the Buyer Journey Flow and a timeframe for asset delivery to meet your client's strategic plan.
Buyer Profile
Your target audience information is included here. Including their industry needs/pain points and how you'll meet their needs through your asset's solution.
Stage Content Specification
This section lays out in detail your buildout roadmap. Your Smart Content Experience(s) break down your asset's content narrative(s). Interaction/RTP breaks down what data your client would like to receive from the Buyer and what value they expect to deliver back to the Buyer. You'll also see technical breakdowns for gating, CTA URLs, and CRM Integration.
In the integration section you'll also see the script that reports back asset's datapoints back into Splashmetrics. This script is known as the RippleScript. It includes the following basic datapoints that will need to be integrated into your asset's code:
Engagements
Marketing Response
Sales Response
Actionable
Progression
Nurture
Jump
VIDEO COMING SOON