Flow Content Section (S1-S5) : Integration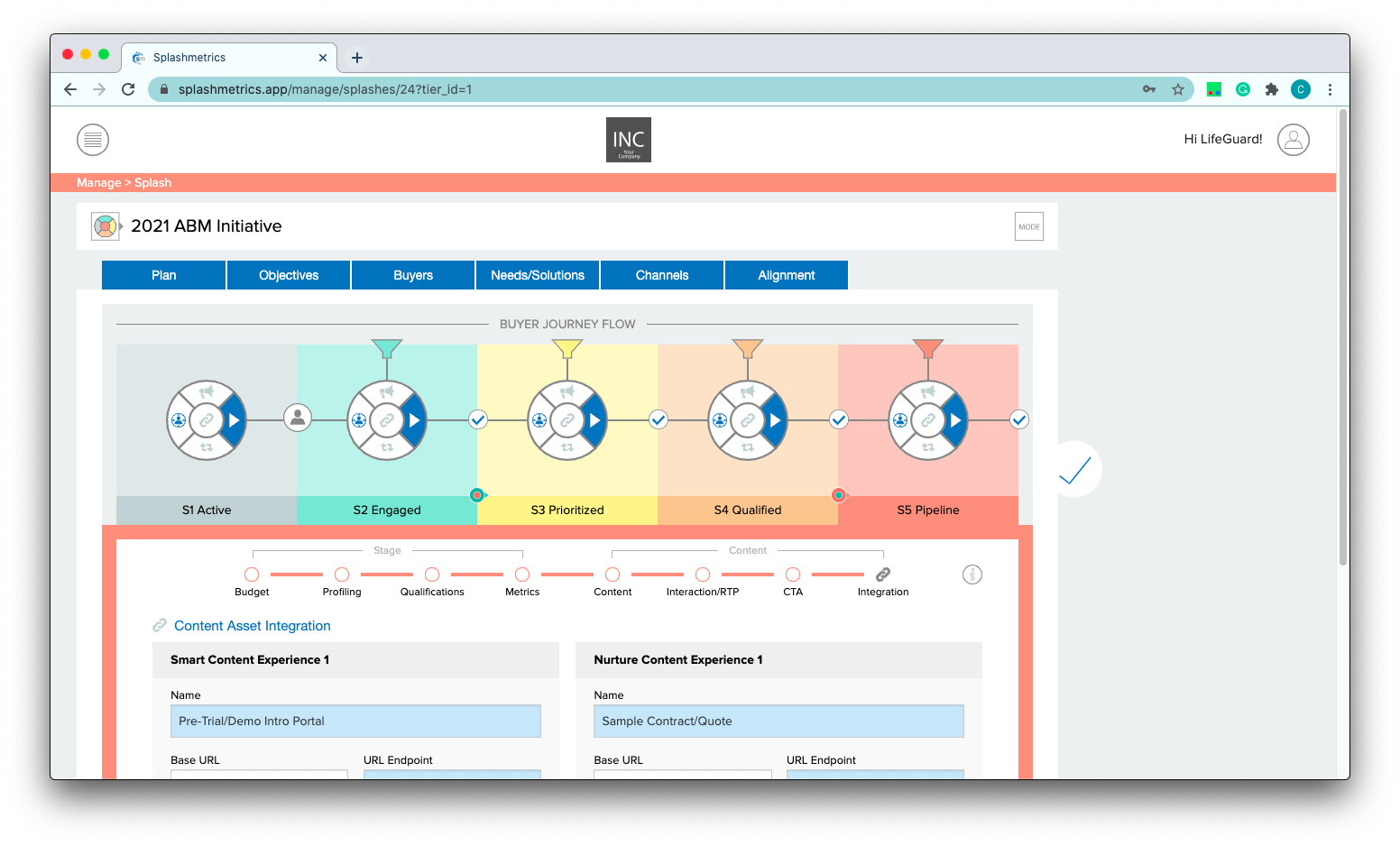 Best Practices: Every content asset should be integrated with both Splashmetrics and your MA/CRM platforms to the fullest extent possible. This way you can be sure that not only is the Buyer Journey truly seamless regardless of where the Buyer enters it, but that you are leveraging and harvesting critical data along the way so that your overall strategic plan and your measurement of those efforts is optimal.
Section Specifics: Here you provide the hosting URLs for your content assets. If you have no downstream Tiers (e.g. – multiple Divisions/Departments) and this will be the only content asset here, simply enter the full URL for the asset such as "ebooks.yourdomain.com/ebook01". However, if you are a Tier 1 user laying out a Splash for your downstream Tiers, we recommend that you provide only a base URL here, then allow your downstream teams to add their specific endpoints. So, for example, you might enter "ebooks.yourdomain.com" here. This tells your downstream teams where all ebooks for this initiative and stage will be hosted. They can then add their own endpoints for their specific assets such as "ebooks.yourdomain.com/ebook02", etc.
This approach then leverages our RippleTM technology to automatically provide the correct URLs to the downstream Content Creator(s) for every CTA in every content asset, meaning you don't have to keep up with potentially hundreds of URLs across all the content in the Splash.
For more complex content types, the "Third Party Integrations" item allows you to easily provide your content creators the appropriate scripts, API keys, integration IDs, etc. so they can leverage connections to your MA/CRM applications to further empower the content and connect to your programs, campaigns, etc.
(Note: If you are a Tier 1 user, these are items that you might want to leave for your downstream Tiers and tactical teams as they engage with the plan.)