How to Start a Collaboration
Please note that this component is not included with the Starter package. So if you don't see the Collaborate card on your console, you need to upgrade your Splash package to add this component.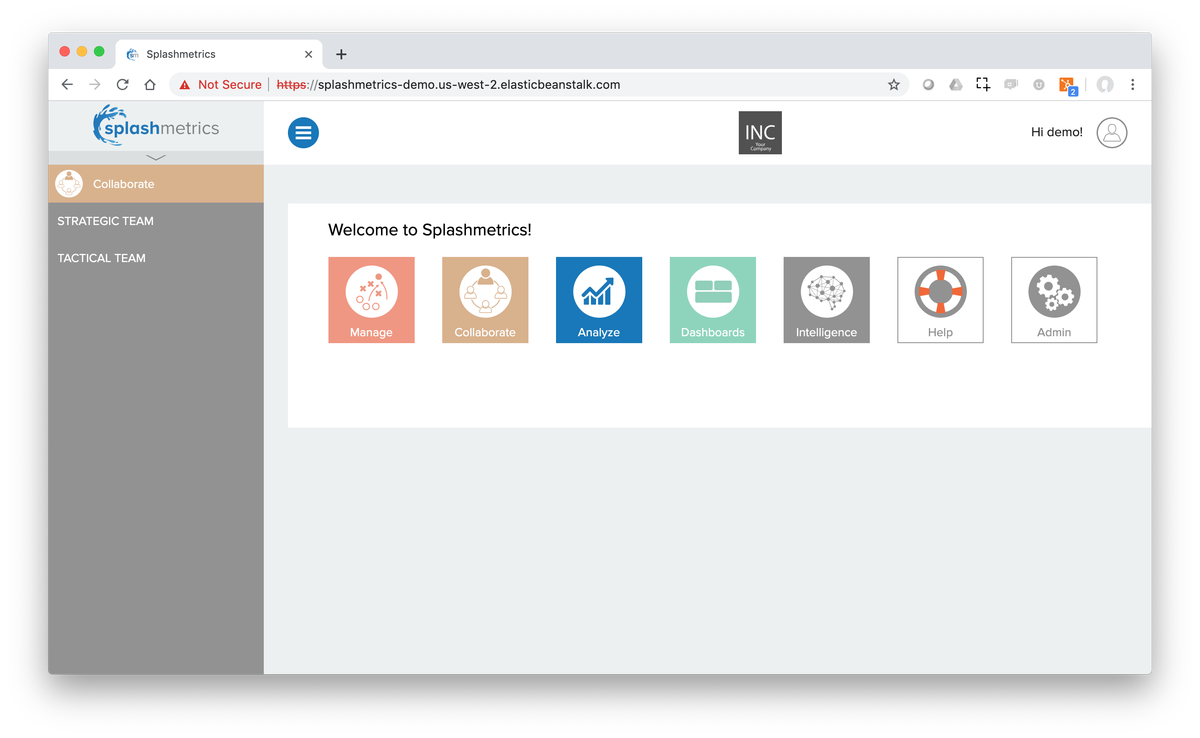 As you can see here, you are able to collaborate with both Strategic and Tactical teams. Strategic teams are typically comprised of your sales and marketing personnel within your company who actively work to plan your initiatives. Tactical teams include both internal teams such as your MarTech experts, and outside vendors such as content creators, etc. – in other words, all those downstream team members who will execute and integrate that plan.
Starting a collaboration for either of these teams happens in the Summary View of your Splash Plan.
In the top bars of each section of your Summary, you'll notice an icon on the left side – and, for the BJF Stages only, on the right side. On the left side is the Strategic Team collaboration icon…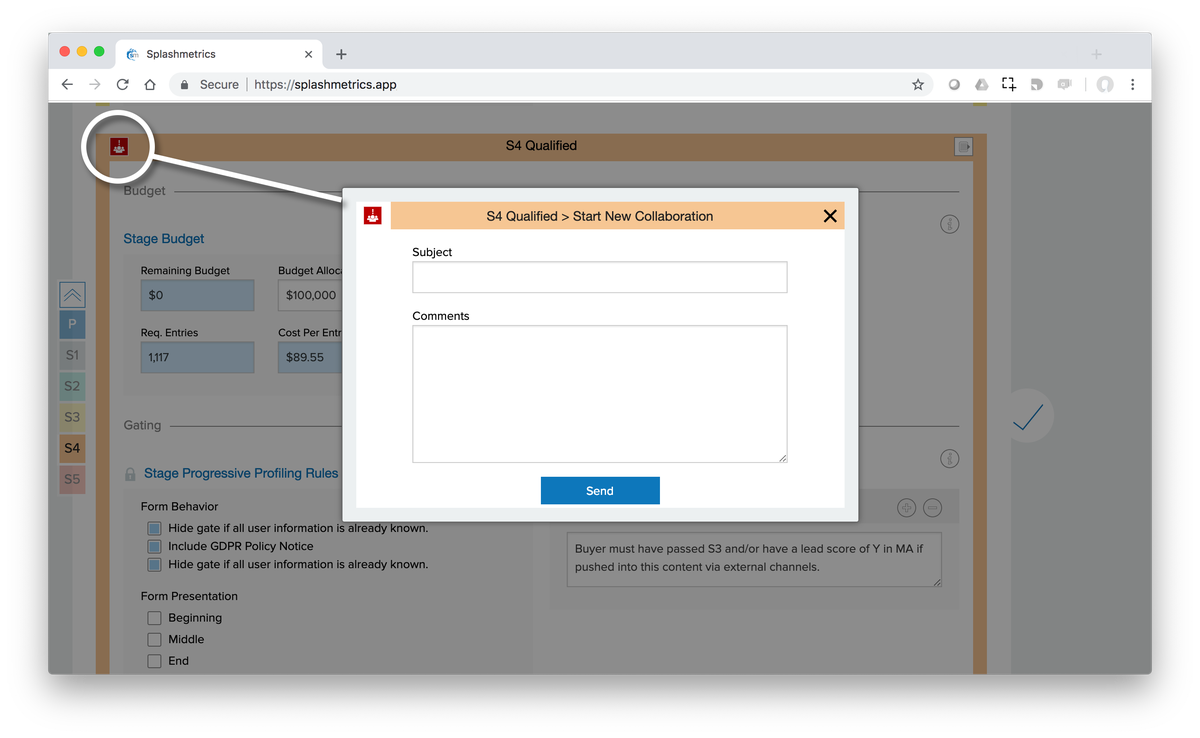 Clicking on that brings up a modal window which you will use to start a new Strategic Team Collaboration. All you need to do is enter the subject and message and hit Send. Because Splashmetrics already knows which Tier you are assigned to and which section you are commenting on, this collaboration is automatically focused on the right thing and directed to the right Strategic Team members. They will receive an alert about this new collaboration and will use the Strategic Team collaboration page we just looked at to discuss this item with you. It's that easy!
The icon on the right side of the BJF Stage sections is the Assign SplashLogic Spec button…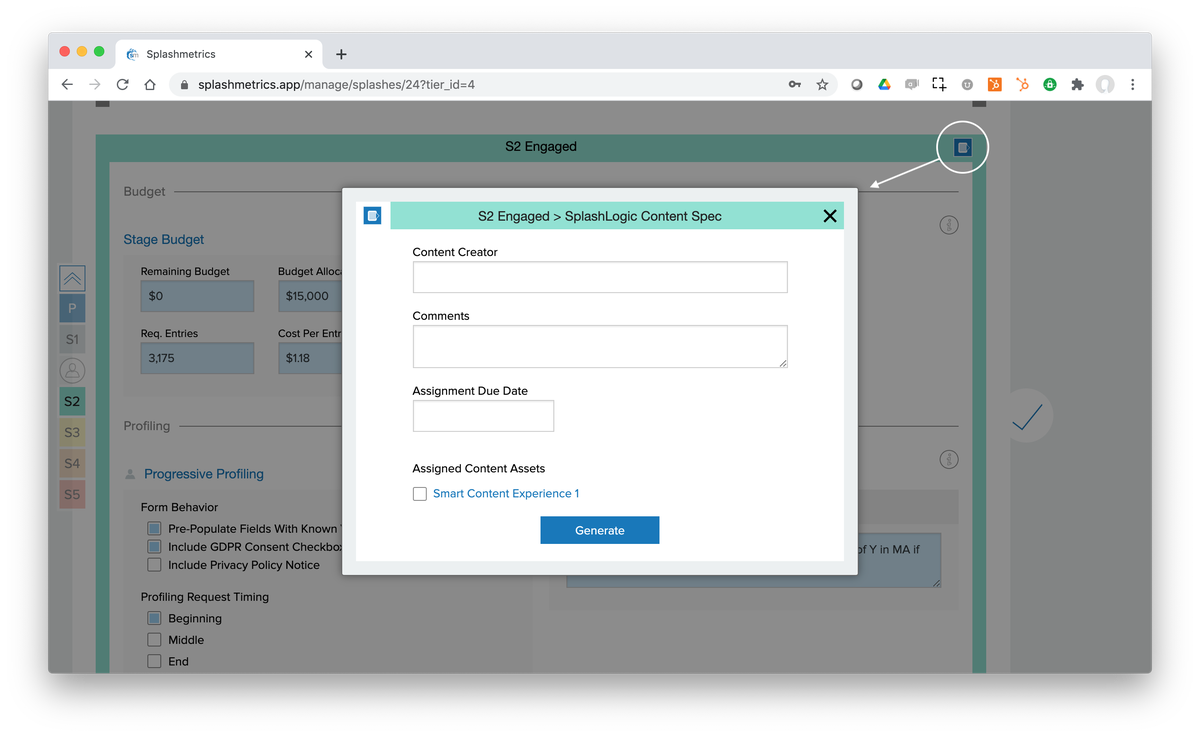 This modal allows you to assign specific content assets in each stage to Tactical Team members – be they internal or external providers. But it gets even better! This single click then automatically generates a full Strategy and Creative brief – or SplashLogic Content Spec – which provides the assigned provider all the information needed to build and integrate the perfect content experience for your Buyers. Splashmetrics will email a secure link for this Content Spec to your selected provider – eliminating the back-and-forth typically involved with the briefing process.